Academic Research Training Path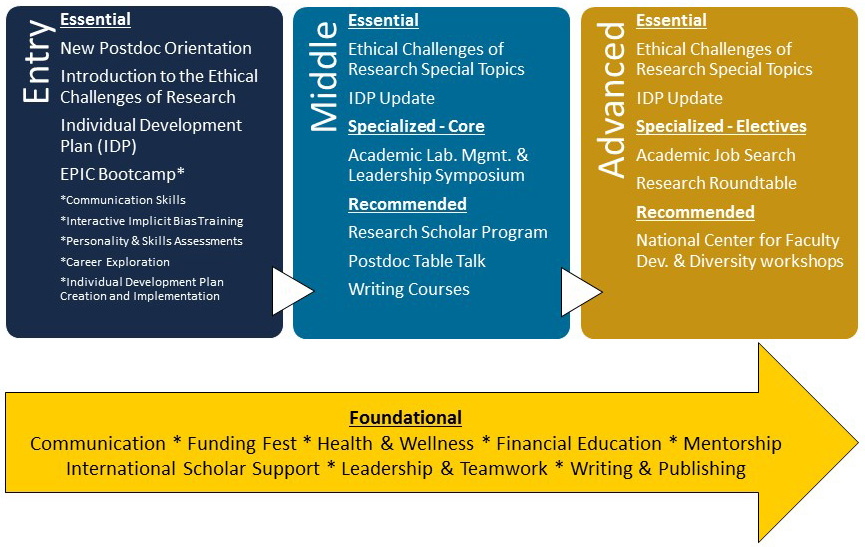 To be eligible for the certificate in this path, the postdoctoral scholars will need to complete:
EPIC Bootcamp (11 hours)
Core Training (11 hours)
2 sessions of electives (at least 3 hours)
Pathway to Thriving in Academia Program (Core Training: Option 1)

The Center for Faculty Diversity and Inclusion and the Office of Postdoctoral Scholar Affairs have partnered to bring junior faculty and postdocs a seminar series on skill-based, practical training covering the key areas for faculty success. (Flyer)
Based in part on the National Center for Faculty Development and Diversity's core curriculum, this nine-session seminar series will take place over the course of the 2017-2018 academic year.
Participants attending five or more of the nine sessions will receive a certificate of completion.
Postdocs –Note that this course will count as Core Training for the Academic Research Training Path in the EPIC Postdoc Program.
Join us to become more strategic, efficient, and productive in order to thrive in academia, instead of just surviving!  
Schedule
FALL 2017: THE STRATEGIC ACADEMIC
Date

Session

Facilitator(s)

Registration

October 17

Strategic Planning and Academic Time Management

Assistant Professor, Mechanical and Aerospace Engineering

 

Assistant Professor, Bioengineering

 

PTAP: Strategic Plan & Time Mgmt

 

November 21

Art of Saying No

Professor, Physics

December 12

Strategies for Self-Promotion and Advancement

Associate Professor, Education Studies;

Associate Vice Chancellor for Equity, Diversity and Inclusion
All sessions will be held from 12 – 1:30 pm in the Dolores Huerta – Philip Vera Cruz Conference Room.
WINTER 2018: THE PEOPLE SAVVY ACADEMIC
| | | | |
| --- | --- | --- | --- |
| Date | Session | Facilitator | Registration |
| January 23 | Managing Teams and Engaging in Successful Collaborations | Professor, Physics | |
| February 8 | *Negotiation Skills for Women in Academia (special guest workshop) | James M. Walton Professor of Economics, Carnegie Mellon University | |
| March 13 | Engaging in Healthy Conflict | Chair and Professor, Radiology | |
All sessions will be held from 12 – 1:30 pm in Medical Education and Telemedicine Building, room 143, unless noted otherwise.
*"Negotiation Skills for Women in Academia" will be in Medical Education and Telemedicine Building, rooms 141-145.
SPRING 2018: PERSONAL ACCOUNTABILITY AND MENTORSHIP
| | | | |
| --- | --- | --- | --- |
| Date | Session | Facilitator | Registration |
| April 17 | Establishing a Consistent Writing Practice | Director of The Writing + Critical Expression Hub | |
| May 22 | *Strategies for Overcoming Academic Perfectionism and Dealing with Rejection | Assistant Professor, Education Studies | |
| June 5 | Developing a Network of Mentors, Sponsors, and Mentees | Assistant Professor, Theatre and Dance | |
All sessions will be held from 12 – 1:30 pm in Medical Education and Telemedicine Building, room 143, unless noted otherwise.
*"Strategies for Overcoming Academic Perfectionism and Dealing with Rejection" will be held in Dolores Huerta – Philip Vera Cruz Conference Room.
---
Academic Laboratory Management and Leadership Symposium (Core Training: Option 2)

Academic Lab Management and Leadership Symposium (Core Training)
The course is organized by the Torrey Pines Training Consortium, which include the Salk Institute for Biological Studies, Sanford Burnham Prebys Medical Discovery Institute (SBP), The Scripps Research Institute (TSRI) and UC San Diego. The one and a half day course is based on the acclaimed Burroughs Wellcome Fund/Howard Hughes Medical Institute course in scientific management and similar intensive programs developed across the country. The course is designed to equip postdocs and junior faculty in the biomedical, physical and life sciences from the Torrey Pines Mesa institutes with the professional competencies to lead innovative and productive research programs. However, graduate students and research staff may also find this training informative and may attend. This training will serve as the core component of this specialized path.
Next event: February 2019
For more information about Feb. 23 & 24, 2017 event, visit: https://almls2017.eventbrite.com

Writing for the Academic Job Market

Need to write a Teaching and/or Diversity Statement for an academic job application in the near future? Looking to get over your procrastination and get started, or to improve on an existing draft?
Join the Teaching + Learning Commons for one of their writing workshops, which will provide guidance and structured work time, plus the opportunity to share and receive feedback with peers.  Postdocs are welcome at all of the graduate student workshops.
Workshops are offered once every academic quarter on writing teaching statements, diversity statements, research statements, and more!
Bring an in-progress draft of your statement--or at least some notes and a willingness to write!
Applying for the Academic Job Market
Learn the ins and outs of applying for faculty jobs, how to prepare to apply, and what to consider as you're deciding whether to go on the market.
Life at a Liberal Arts College Faculty Panel
Interested in teaching at a liberal arts college, but not sure what to expect? Join us for a morning panel discussion and networking lunch with faculty and administrators from top liberal arts colleges across the country who represent LADO (Liberal Arts Diversity Officers), a consortium of 24 liberal arts colleges and universities. This is an opportunity to learn about careers at liberal arts colleges and to get a review of your CV and cover letter by LADO faculty in preparation for applying to faculty positions at these colleges.

The National Center for Faculty Development & Diversity (NCFDD) is an independent professional development, training, and mentoring community for faculty members, postdocs, and graduate students. NCFDD provides online access to mentoring, tools, and support needed to be successful in the Academy.  It focuses on helping academics achieve extraordinary writing and research productivity while maintaining a full and healthy life off campus.
UC San Diego is an institutional member of the NCFDD and postdocs can activate their membership at https://www.facultydiversity.org/join to access webinars and other resources.  
Webinar: Twitter: How to Win Followers and Influence People
Nancy Yuen, PhD: Have you dreamt of disseminating your research out to a public audience via Twitter? Join me to explore how to effectively communicate your knowledge in 280-character-chunks. I will share different tools to help you reach a larger audience (e.g. livetweets, threads, hashtags, gifs and memes). Finally, I will discuss how to curate a Twitter feed unique to your expertise and build a vibrant community with academics, journalists, and folks who share your interests.
Webinar: How to Manage Stress, Rejection & the Haters in Your Midst
Are you stressed? Do you feel devastated when your articles and/or grant proposals get rejected? Is the pressure of publishing/funding your work making you sick? If any of this sounds familiar and you have difficulty managing the negative energy and rejection in your environment, please join us to learn:
The impact that stress and negativity can have if they are not managed
Identify the most common areas of stress in academic life
Concrete strategies for managing the physical, emotional, and attitudinal effects of stress
Faculty Success Program
The Faculty Success Program is all about learning the secrets to increasing your research productivity, getting control of your time, and living a full and healthy life beyond your campus. As the NCFDD's signature program, the Faculty Success Program is specifically designed to transform your personal and professional life. The program is for tenure-track and tenured faculty who are looking for the perfect combination of empirically-tested methods to improve research productivity through intense accountability, coaching, and peer support and to propel their work-life balance and personal growth to a whole new level.

UC Managing Implicit Bias Series
The UC Managing Implicit Bias Series is a series of six eCourses designed to increase awareness of implicit bias and reduce its impact at the University. The program further reinforces the University's commitment to diversity, equity, and inclusion.
The Managing Implicit Bias Certificate contains the following six self-paced, online interactive courses:
What is Implicit Bias?
The Impact of Implicit Bias
Managing the Influence of Implicit Bias – Awareness
Common Forms of Bias
Managing the Impact of Implicit Bias – Mindfulness and Conscious De-Biasing
Managing Implicit Bias in the Hiring Process
Those who complete all six courses will receive a certificate in Managing Implicit Bias and their coursework will count towards completion of the UC People Management Series and Certificate. Register HERE
---
Research Roundtable Series

Interested in an academic position? Come hear how to make the transition from a postdoc to professorship at the Research Roundtable series!
The Research Roundtable series focuses on perspectives from junior faculty in different disciplines on the transition from postdoc to faculty.  This may include experiences being on the academic job market, setting up a research lab and group to preparing for tenure. Throughout, the faculty members will talk about best practices and lessons learned to help the postdoc navigate the academic career path. The event will be limited to 20 postdocs to encourage discussion and a light lunch will be served.  If you attend, please be willing to participate in the discussion.
Workshops will be held from 12 – 1:30 pm.
Dates and locations are subject to change.
Register HERE
**Registration for these workshops is required. If you register for a workshop and cannot attend, please cancel your reservation through EventBrite to allow another postdoc to attend.*
Summer Research Scholar Program
In partnership with Prof. Elizabeth Komives and UCSD Extension, this mentorship program allows postdoctoral scholars to have hands-on mentorship of high school students from across the country over 3-weeks in the summer quarter.  The postdoctoral scholars will learn how to provide effective mentorship and guide a short-term and manageable research project that will culminate in a formal poster session.
For more information about how to become a postdoc mentor and make a difference in a burgeoning scientist's life, please contact Prof. Elizabeth Komives: ekomives@ucsd.edu.
For more information about the program, see Call for Mentors document.
---
Do you have questions about applying for postdoctoral fellowships?  Are you looking for resources for finding relevant opportunities to which you can apply?  Would you like feedback or guidance on writing your fellowship applications?
Postdoctoral scholars rely on a network of mentors and advisors for success during their training and beyond.  Some postdoctoral scholars may not have the opportunity, contacts or venue to broaden this network, especially with academics in another field. To address this, the and Office of Postdoctoral Scholar Affairs (OPSA) has created a platform for postdoctoral scholars and UC San Diego faculty to connect through a fellowship forum in the Leichtag building once a month.
For more information, see Postdoc Fellowship Forum.
---
Becoming a Successful and Effective Science Writer Workshop (In person training)
Nature Masterclasses: Scientific Writing and Publishing (Online training)
An independent online community for professional development, training, and mentoring for graduate students, postdoctoral researchers, and faculty members.
---
CAMSEE is a research, teaching and learning community that unites individuals across science, mathematics and engineering departments and divisions to advance undergraduate instruction and learning in these disciplines and to produce scholarly education research. A network that welcomes participation from all members of UC San Diego who wish to contribute their experience and expertise to advance pedagogy and discipline-based educational research, while improving STEM education.