Entrepreneurial Training Path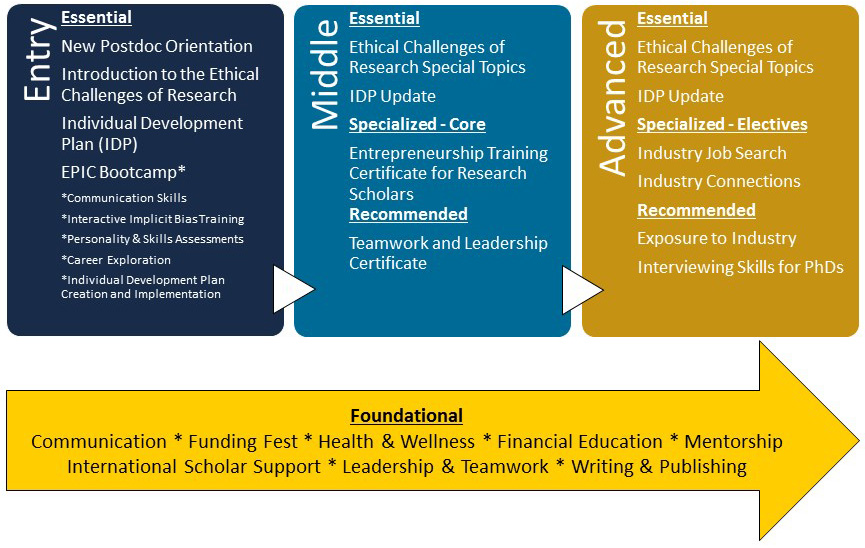 To be eligible for the certificate in this path, the postdoctoral scholars will need to complete:
EPIC Bootcamp (11 hours)
Core Training (14 hours)
2 sessions of electives (at least 2 hours)
Research Scholar Certificate in Entrepreneurship Training (Core Training)
In partnership with the Office of Innovation and Commercialization and the Graduate Division, the Office of Postdoctoral Scholar Affairs, is offering a mini-certificate program on entrepreneurship for postdocs and graduate students. The format of the course is a 2-hour module once per week for 8 weeks. Participants will learn effective tools, gain exposure to the culture of entrepreneurship and have access to the mentorship of UC San Diego's Entrepreneurs in Residence. Participants are required to attend all 8 sessions. 

This training will serve as the core component of this specialized path.
Sample sessions:
Ideation/Telling your Story
Business Model Generation
Customer and Market Development
Intellectual Property
Financing Your Startup
Social Enterprises
Leadership & Building Your Team
Business Model Showcase
Sessions offered quarterly.  Visit innovation.ucsd.edu or email innovation@ucsd.edu for information about and dates/times for upcoming certificate program courses.
Next Session: April 4 through May 23, 2019 from 6-8 pm
Registration required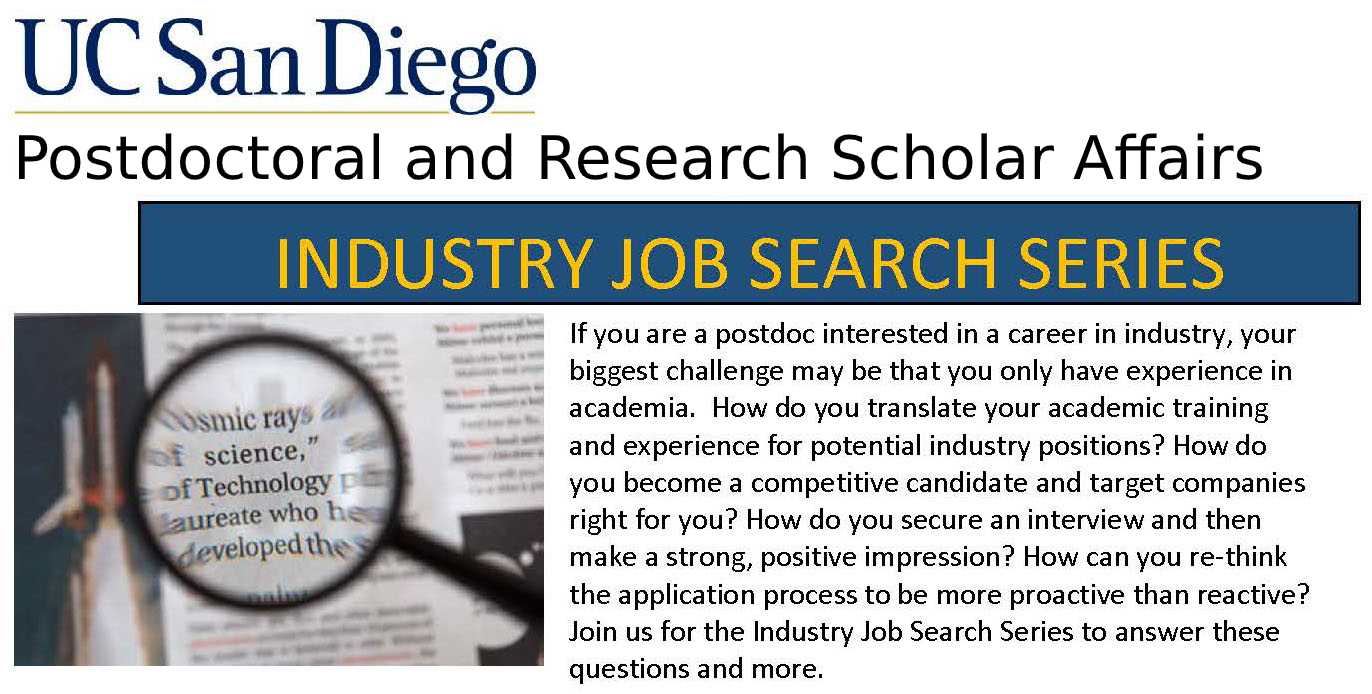 This series will focus on the successive phases of an Industry Job Search.  Barbara Preston, Ph.D., recruiter and co-founder of PharmaScouts, will present the series and share tips and best practices to help you succeed in transitioning from academia to industry.  Attend this series to learn how to positively leverage your experience in postdoctoral training for an industry position.
Resume Writing for Industry
Learn the differences between a CV and resume and gain a better understanding about how to present your experience, communicate relevant skills, highlight what is important to a hiring manager in industry and even how to be considered for non-bench scientific roles.
Resume Review for Industry
In the Resume Writing workshop, you learned that a resume is used to get the attention of your potential employer and interest him/her enough to call you for an interview.  As a follow up to that workshop, Dr. Preston will review resumes and provide feedback for up to 12 UC San Diego postdocs and graduate students.
If you would like to submit your resume for review, please complete the Position/Result/Edge (PRE) worksheet that was provided to you in the first workshop to draft your resume. Send a copy of your resume to postdoc@ucsd.edu by Sunday, April 15 to be considered for review.
If your resume is selected, Dr. Preston will review each "blinded" resume to give personalized feedback.
Even if your resume is not selected, we invite you to attend to witness the resume reviews of your peers.
Getting in the Door of Industry
Learn how to identify companies and make targeted lists of companies you would want to work for [whether or not a position is posted], identify the right people to connect with internally using available resources, and discover how to connect with those people directly to assist your transition from academia.
Passing the Interview Hurdle
Learn about phone screens, the in-person interview with multiple individuals at different levels, and the scientific seminar.  This workshop is a combination of universal job interview insights and tips specific for new-to-industry postdoctoral applicants to help with the common questions and challenges you will face.
Check out this Nature Careers article on transitioning to industry featuring Dr. Preston [PDF]
Industry Connections
Interested in an industry position, but not quite sure what careers are available? How does one make the transition from an academia to an industry position? The Industry Connections series seeks to answer those questions. 
Each seminar will focus on perspectives from a Ph.D. working in industry and how he/she successfully transitioned to a career in industry.  The speaker will give a short presentation and then open the topic up for Q & A.  This event is limited to 20 postdoctoral scholars and a light lunch will be provided. If you attend, please be willing to participate in the discussion.
Seminars will be held in the Student Services Center (SSC) from 12 – 1 pm.
Date

Topic

Presenter

Room

Register

April 4, 2018

Compliance Manager


Elyse Walk, Ph.D., Compliance Manager at Explora BioLabs

August 23, 2018

Artificial Intelligence Research in Industry


Xin Wang, Ph.D., Deep Learning Data Scientist at Intel AI

Center (SSC)

, Room 300

IC: AIResearch

September 18, 2018

Pre-clinical Project Manager

Marianna Zipeto, Ph.D.

, Pre-clinical Project Manager at Crown Bioscience, Inc.

Center (SSC)

, Room 400
Dates and locations are subject to change.
Registration for these seminars is required.
Presented by UC San Diego's Office of Advanced Professional Education & Development, Office of Postdoctoral Scholar Affairs and Postdoctoral Association's Exposure to Industry program, this half day event will expose participants to hear from local companies about employment opportunities that exist for Master's in Clinical Research and postdoctoral scholars from UC San Diego.  Company representatives with advanced degrees will also share their journey from academia to private industry and answer your questions.  Participants will also have a chance to speak with the company representatives during the structured networking over lunch.

Next event: April 29, 2017 in the Medical Education and Telemedicine Building (MET)
Registration is required: https://corpspotlightday2017.eventbrite.com 
Companies include Becton Dickinson Medical (BD), Genomics Institute of the Novartis Research Foundation (GNF), Pfizer, Prometheus Laboratories Inc.and QuintilesIMS.
---
To provide UC San Diego postdoctoral scholars opportunities to learn about the rich biotech, pharmaceutical, high-tech, and medical device companies in the San Diego area, the Postdoctoral Association (PDA) organizes sponsored company site visits. The aim is to expose postdoctoral scholars to various career options in industry, help them create a valuable professional network, and contribute to the growth of San Diego's economy.
---
This program is a series of events designed in collaboration with Career Center, Office of Postdoctoral Scholar Affairs and the Postdoctoral Association to provide postdoctoral scholars and doctoral students application materials preparation and useful interviewing skills with a chance to apply those skills in a mock interview session with local professionals and hiring managers.