Essential Training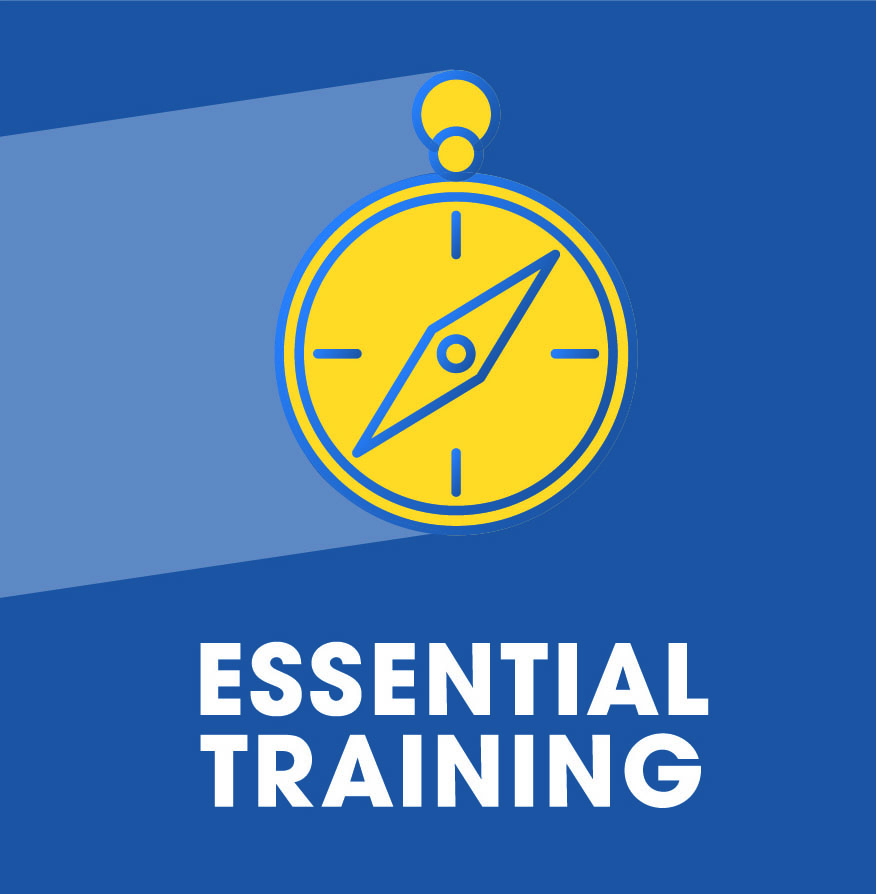 This training will provide the foundation for postdoctoral  scholars as they begin their training at UC San Diego and addresses the common needs across disciplines and  chosen career directions.
This essential training should be completed by the end of  the first year of postdoctoral training.
This 4-part professional development event is designed for postdoctoral scholars at the beginning of their training to help them make the most of their postdoc experience and establish a foundation for their future career success.  

Session 1: Understanding Yourself
Identify role and responsibilities of being a postdoc

 

 

Communicate research with a clear and concise message

Assess personality type and distinguish those of others
Session 2: Evaluating Your Abilities
Clarify skills, interests, values and career preferences

 

Understand strengths and how to use them effectively

 

Identify and address training and professional development needs
Session 3: Managing People and Projects
Recognize and interrupt implicit bias

Develop and utilize strategies to communicate effectively

Create and assess structured short and long term goals
Session 4: Developing Your Plan
Utilize networking for career planning and preparation

 

Determine a course of action for a successful postdoctoral experience

 

Evaluate action plan with peers and mentors
For more information, dates, and how to register: EPIC Bootcamp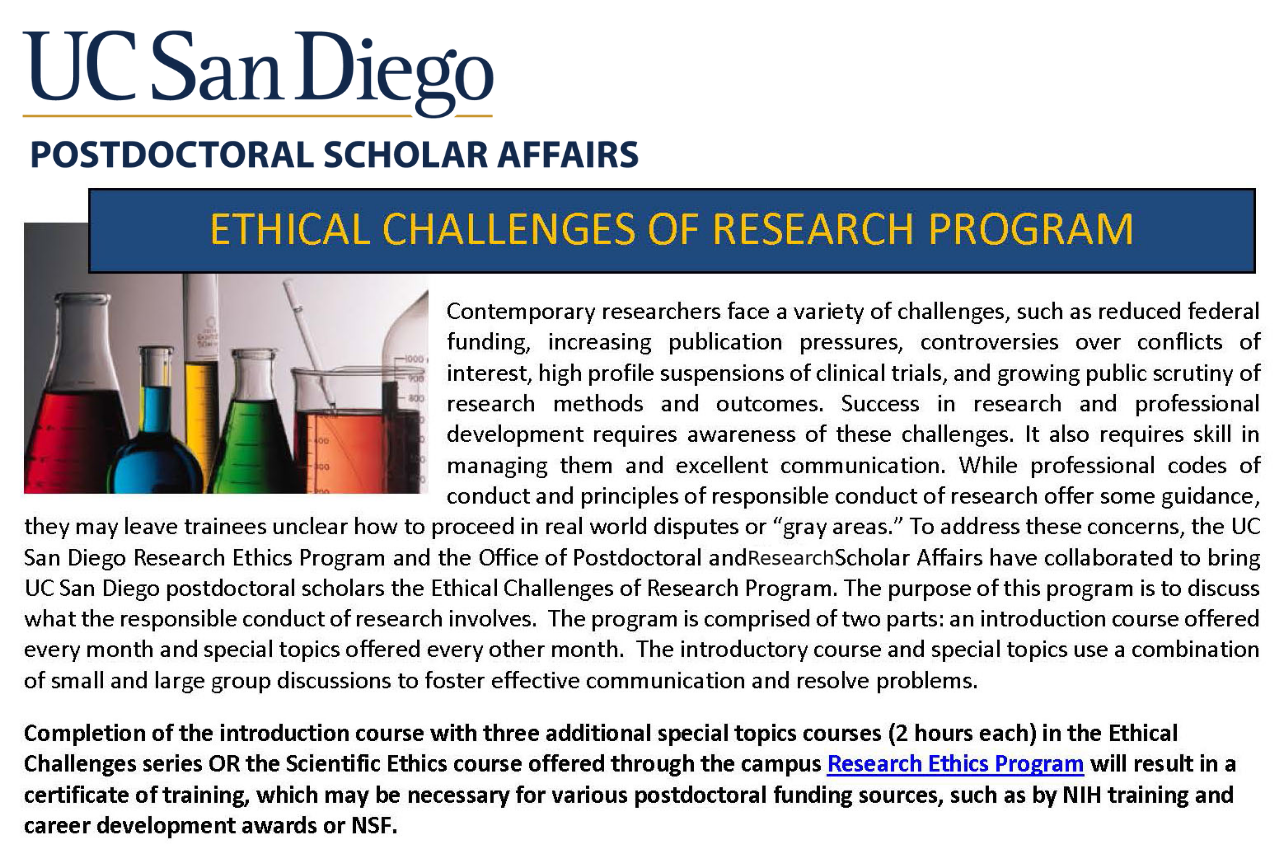 Postdoctoral scholars are strongly encouraged to complete the certification as part of their research training and education.


For more information, events, dates, and how to register: Ethical Challenges of Research
The Office of Postdoctoral Scholar Affairs offers a New Postdoc Orientation on the second Thursday of every month.
It is strongly recommended that all postdocs attend the workshop within the first two months of their initial postdoc appointment at UC San Diego so they become familiar with the guidelines and policy that impact their appointment.
The orientation will cover topics such as benefits, leave policy, research compliance training, professional development planning and opportunities, and resources available to postdocs.  You'll meet some members of the Postdoc Association (PDA).  And lastly, the UAW, the union that represents postdocs will share information about union membership.
State law prohibit posting of the exact schedule on this public website, so if you are a new postdoc, please refer to your offer letter, contact your department administrator or sign into the UC Learning Center (LMS) for information on date, location and time.


For information, please visit New Postdoc Orientation.
Individual Development Plan (IDP) is a tool to identify skills, knowledge, and interests; outline career goals; and manage an individual's career development progress.
For assistance on creating your IDP, assessing your skills, working with mentors and setting realistic and achievable goals, attend the EPIC Bootcamp.  Each postdoctoral scholar will have the opportunity to develop and present his/her IDP to faculty participants for feedback and by the end of the session have the foundation of an IDP to guide his/her career objectives.
For one-one assistance in the creation of your IDP, you may request a career advising appointment.

For more information, please visit Individual Development Plan.
Subscribe to the Postdoc listserv to be sent more information and how to register for these and all upcoming events. UCSD email address required for subscription.
Questions? Suggestions? Contact Heather Dillon at: hadillon@ucsd.edu  or (858) 822-5915.